Five French Masters - Notes
Notes on Five French Masters, written not to provide an analysis, but some general information for the performer, listener, and hopefully a few helpful tips for the conductor in preparing my suite.
1. Boulevard Montmarte (Pissarro - 1897)
The Boulevard Montmartre is one of the four grand boulevards of Paris. This painting gave me the idea of writing a piece to portray a journey in a pony and trap through this busy street scene, starting out serenely in the suburbs, travelling through all the hustle and bustle, before trailing off into the distance. An all pervasive Poulenc mouvement perpetual accompaniment style is present throughout this movement. To prevent undue monotony, I have shared out the ostinato patterns wherever possible, apart from in the basses. Here I suggest the bass players share out the bars during the lighter moments, as there is no need for a full team to be playing all of the time. I have marked the tempo as precisely 100 crotchet BPM. I think it is important for the conductor to stick rigidly to this in order to give the music a lively trotting gait, as well as aiding clear and tidy articulation in all parts.
2. Lac d'Annecy (Cézanne - 1896)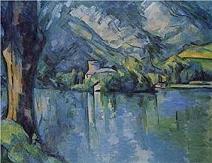 Although marked Waltz triste (sad waltz), the mood of the music is rather reflective in nature. This movement is the longest of the five and I would not recommend it being played too slow. Stylistically, it is a characteristic accordion piece, so touches of rubato here and there wouldn't be out of keeping. The introduction is a purely functional series of modulating sequences to get the listener from the key of the opening movement (G flat major) to B flat major. Drum kit with brushes, keeps the music moving along. A good kit player should be allowed to embellish the part as appropriate in keeping with the style within the written framework.
3. La Cathédrale de Rouen (Monet - 1894)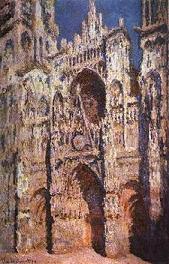 This is the most difficult movement to play in respect of intonation, with lots of unisons, octaves and parallel intervals. The opening should be a true piano in order to allow the piece grow. The plainsong statements should be played smoothly and with plenty of air. The bell chimes on cornets and trombones, should be well marked but not detached. A glockenspiel may be used as a substitute for the tubular bells part if a set is unavailable. After the silent pause bar, I would recommend a segue into the next movement, or the minimum of breaks without fussing.
4. Les Parapluies (Renoir - 1884)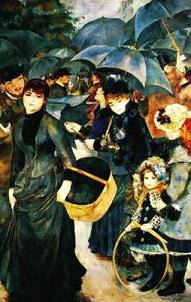 A jaunty, playful theme leading in to a little fugue. A little low in places for the euphoniums and baritones. The music should skip along comfortably without rushing to allow the finer detail to come through. Dynamic should always be under control to achieve a good contrast.
5. Au Moulin Rouge (Toulouse-Lautrec - 1895)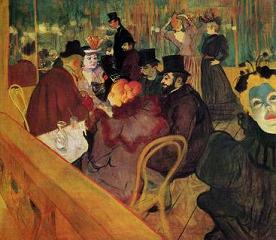 A lively tempo, always chasing forward without slackening. As in the previous movement, good dynamic contrast, swells and tight precise articulation. Lots of work for everyone, especially the baritones and euphoniums. Take care that the mf dynamic of the ' bass solo' is not overdone. If needs must, the siren whistle could be substituted with a referee's whistle, but I would like my duck call! The champagne cork 'pops' are really more visual than audible, however, it would be advisable for more of the band to join in, as required. Just to clarify the DC al Coda, take the coda first time (without repeat), and I would suggest that the music is taken 'one in a bar' from the accelerando to the end.
Percussion
Finally a few additional points relating to the use of percussion. Although Percussion II is marked optional, this only really refers to what could be left out if absolutely necessary if the band only had one percussionist, say in a concert performance. All the percussion parts add an important element to the suite. In a contest performance both I and no doubt the adjudicator would expect all percussion parts to go in. Percussion I is mainly drum kit. This can be separated down into individual components if required to keep the section occupied if your band has more than two percussionists, however, the second movement would be better left to drum kit with some stylish brush work.
In conclusion
It is a great honour to have a piece selected for a contest. I do hope you enjoy working on and performing my Five French Masters, as I have enjoyed writing it, and above all, I hope you find it tuneful as well as fun to play.
Errata list
The following errors have recently been found in the score and parts. My sincere apologies for this.

Mov. 1
Bass Trombone: Missing dynamic marking 1 bar before B is mf.
Percussion 1: Missing decrescendo in bars 1 & 2 of Coda from mf to p.
Mov. 2
Repiano Cornet: Missing phrasing in bars 7 & 8 before C. This should be the same as the Solo Cornets.
Soprano Cornet: Missing dynamic marking 3 bars before D is mp.
Mov. 3
2nd Horn: Missing dynamic marking 6 bars after C is f.
Mov. 4
Solo Horn & Bass Trombone: At A and bar 5 after A, and also at C and bar 5 after C, unnecessary repeated accidental on the 3rd beat.
2nd & 3rd Cornet: 7 bars before C, the 4th beat should be a quaver and not a dotted crotchet.
Mov. 5
Soprano & Solo Cornets: 1 beat before F, add finger pops!